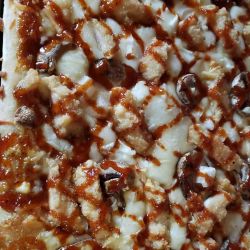 1 prepared Pizza Crust
1/2 Pound of Grated Mozzerella Cheese
Chicken to taste (we marinade in Maple BBQ Sauce first)
Ranch Salad Dressing or Blue Cheese Dressing
Merle Maple Pizza and Wing Sauce
Thaw and allow to rise prepared pizza crust. Cover crust with ranch salad dressing. Add a thin layer of Merle Maple Pizza and Wing Sauce. Next add the mozzerella cheese then add the chicken on top and whatever else you enjoy on your pizza (mushrooms, onions, peppers)!
Bake at 450º for approximately 20 minutes or until lightly browned. Enjoy!